Aircraft to Be Fitted With UNS-1Lw FMS and LPV Monitor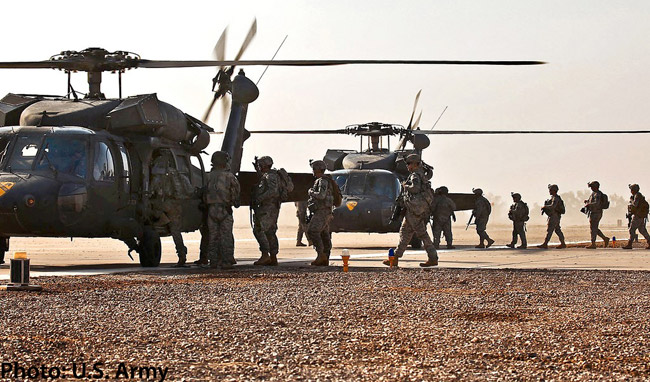 Download Hi-Res Image
Tucson, AZ - April 4, 2018 – Universal Avionics, in partnership with the U.S. Army Aviation and Missile Research Engineering Development Center (AMRDEC), Prototype Integration Facility (PIF), and prime contractor Redstone Defense Systems, has integrated an IFR capable Flight Management System (FMS) for the U.S. Army's Sikorsky HH/UH-60L/M Black Hawk Federated Advanced Navigation System (FANS) program. This meets the program's requirement to integrate a Commercial Off The Shelf (COTS) FAA certified navigational system for the incorporation of Required Navigation Performance Area Navigation (RNP/RNAV) and Global Position System RNAV (GPS/RNAV) requirement.
To meet the GPS/RNAV requirement, H-60 aircraft will be fitted with a single UNS FMS with 4-inch Flat Panel Control Display Unit (FPCDU).
"Our COTS FMSs facilitate the integration of a solution that allows the Black Hawk to retain all of its mission critical avionics equipment, while adding new operational capabilities," said Bob Sanchez, Universal Avionics Senior Manager, Government Business Development. "Universal's solution also meets precision navigation mandates that are critical to aircrew safety," he added. "To support the unique missions of the Black Hawk, we are providing Night Vision Goggle (NVG)-compatible variants."
To learn more, visit Universal Avionics booth number C84 during FIDAE 2018.
---
About Universal Avionics

Universal Avionics is a leading manufacturer of innovative avionics systems offered as retrofit and forward-fit solutions for the largest diversification of aircraft types in the industry. Markets served include Business, Helicopter, Airline (regional/commercial), Government/Military, Special Missions, and OEM. To learn more about Universal Avionics, visit www.uasc.com/company/about.
U.S. Army Aviation and Missile Research, Development, and Engineering Center provides increased responsiveness to the nation's Warfighters through aviation and missile capabilities and life cycle engineering solutions.