The InSight™ flight deck provides state-of-the-art upgrades for Pro Line 4 equipped aircraft.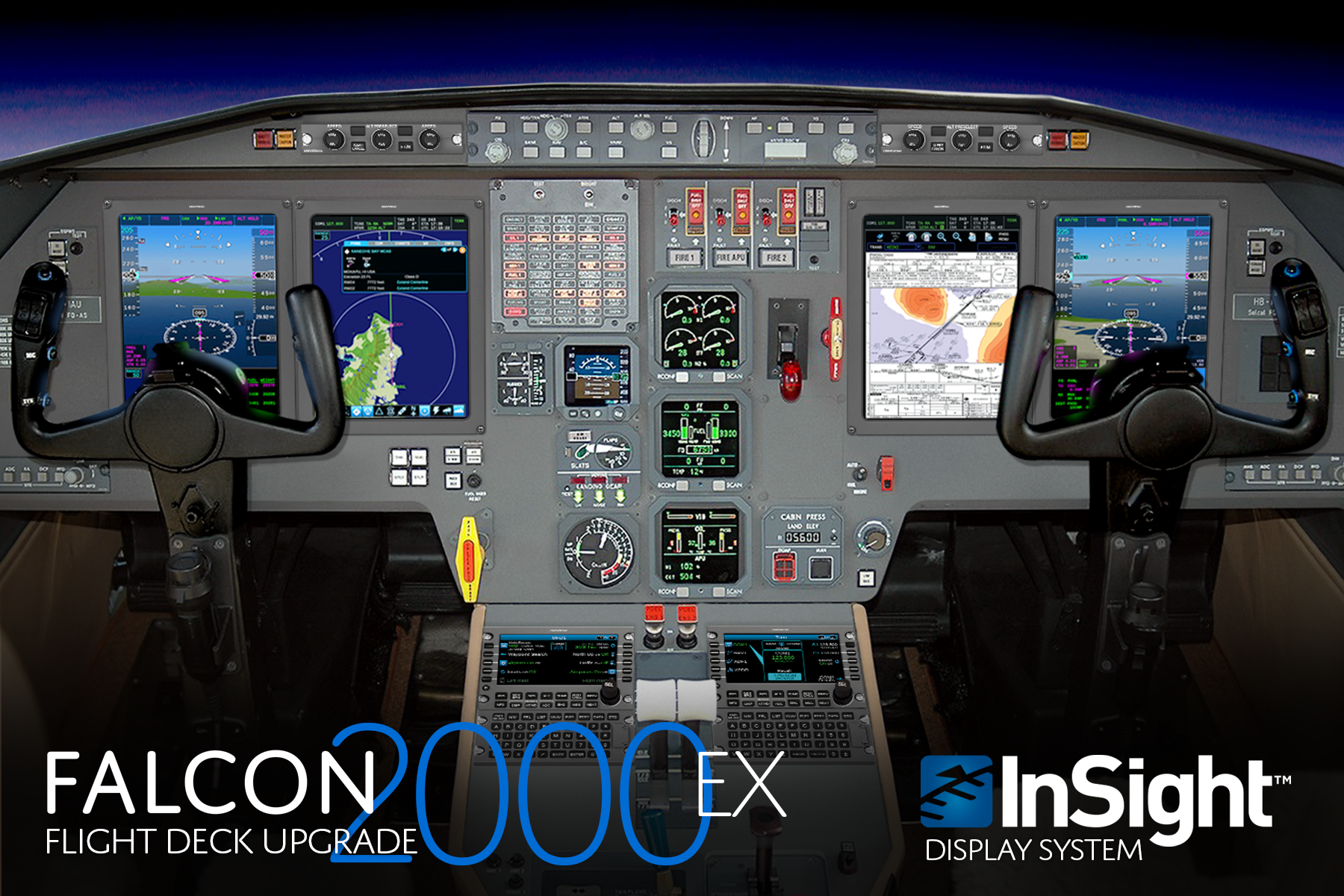 Tucson, Arizona – March 29, 2022 – Universal Avionics (UA), an Elbit Systems company, has joined forces with Trimec Aviation to provide integrated avionics solutions for all Dassault Falcon 2000/2000EX aircraft equipped with Collins Aerospace's Pro Line 4™. The solution will include UA's InSight Flight Display System, SBAS-Flight Management Systems (FMS), SkyLens™ head-wearable display (HWD), and UniLink™ Communications Management system. Completion of the Supplemental Type Certificate (STC) is expected on the First of Type aircraft in the 1st quarter of 2023.
The integration will deliver a rich feature set for enhanced situational awareness and improved safety, increasing payload by more than 200 lbs. (91 kg) and resolving concerns from operators on the obsolescence of CRT displays. Features include a 2nd generation 3D Synthetic Vision System (SVS), a fully interactive and integrated digital map, a Head-up navigation solution for all phases of flight with 360 degrees of enhanced terrain awareness, and the latest in Human Machine Interface (HMI) design including touch control interactions to reduce crew workload. The solution also supports RNP 0.3 approaches and enables CPDLC/DCL/FANS 1A+/ATN B1, saving 15 minutes or more for a typical flight. Trimec will provide the integration and certification of the system on the Falcon 2000/2000EX, which sets the stage for deployment on other aircraft with Pro Line 4.
"Replacing existing flight deck displays with the InSight Flight Display System is an economical and sustainable initiative that extends the service life of both the flight deck and the aircraft while enhancing capabilities to meet global airspace compliance," said Dror Yahav, CEO of Universal Avionics. "Whether you own the aircraft for just a few years or decades to come, we believe this holistic approach complements the rising demand and value of the F2000/F2000EX aircraft."
"We are excited to be working closely with Universal Avionics on this achievement as our relationship goes back many years. We are always looking for ways to help our customers and this package with Universal Avionics InSight is a big step forward providing a modern package," said John Holland, General Manager of Trimec Aviation. "The additional components provide CPDLC features as well as an economic alternative for Falcon 2000 operators that are now looking to upgrade to FANS."
To learn more about Pro Line 4 integration with InSight, FMS, and Data Comm, visit Universal Avionics today at AEA New Orleans 2022 (Booth 219), or visit our home page.
About Trimec

Trimec Aviation is a full aircraft service FAA certified MRO facility in Fort Worth, Texas providing aircraft scheduled and unscheduled maintenance, avionics installations, engine removal and replacements, battery servicing, paint, interior refurbishments, and more. Learn more about Trimec Aviation at www.trimecaviation.com/company/
About Universal Avionics
Universal Avionics, an Elbit Systems Company, is a leading manufacturer of innovative commercial avionics systems offered as retrofit and forward-fit solutions for the largest diversification of aircraft types in the industry. To learn more about Universal Avionics, visit www.uasc.com/company/about.
________________________________________
Universal Avionics Press Contact
Mathew Devitt
Marketing Manager
[email protected]
+1 520 295 2300 | 800 321 5253