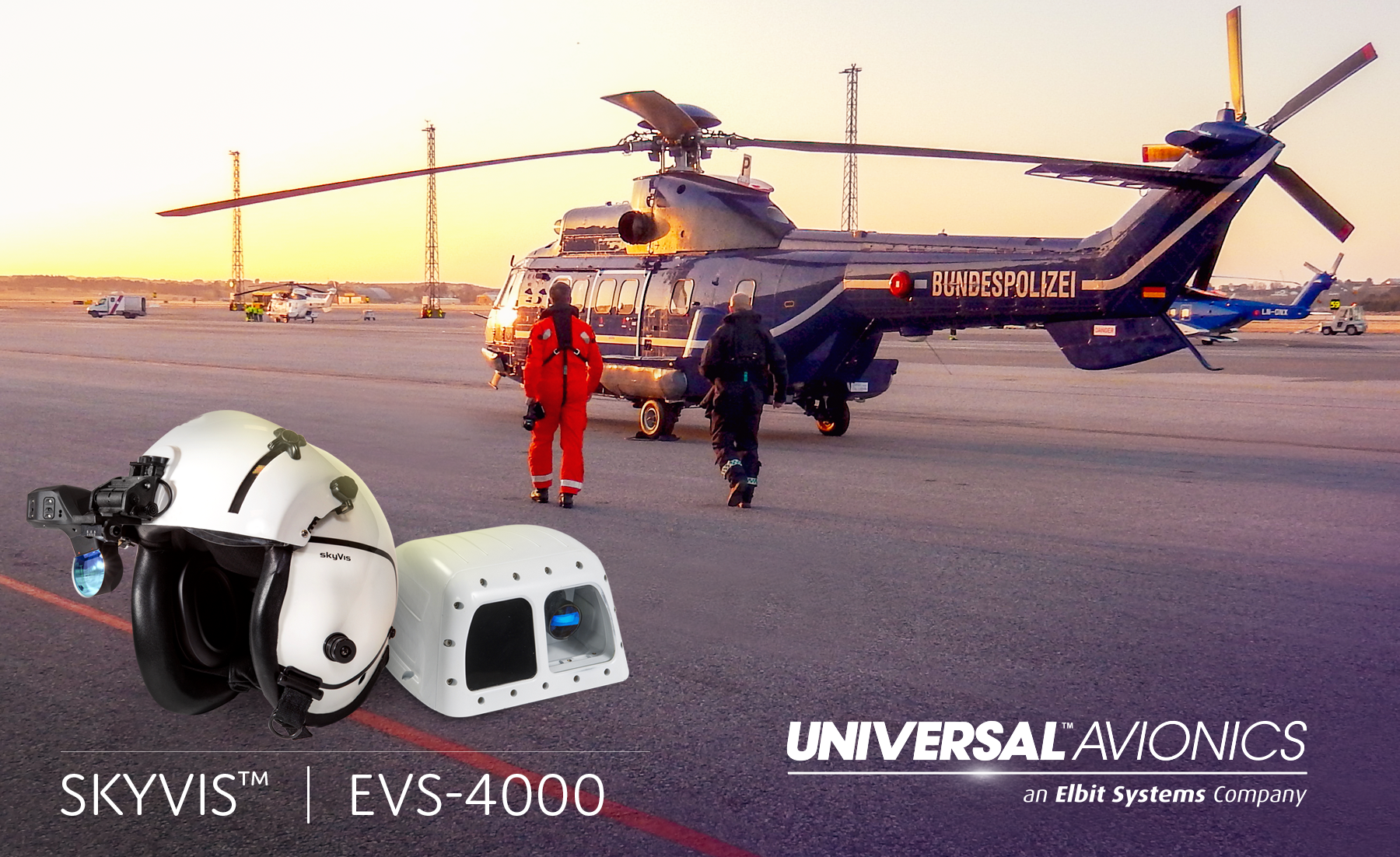 Tucson, Arizona – June 21, 2022 – Universal Avionics, an Elbit Systems Company, in partnership with Heli-One (Norway) AS and the Bundespolizei – German Federal Police (BPOL) has successfully completed test flights of its SkyVis Helmet Mounted Display (HMD). The partnership is aimed at the development of a European Aviation Safety Agency (EASA) Supplemental Type Certificate (STC) for SkyVis on H215 (AS332L1e) helicopters. At its completion, it will be the first civilian certification of a helmet-mounted display.
The SkyVis suite is comprised of a set of helmet-mounted monocle-type displays used for the visualization of primary flight information. The system can be used during the daytime, and can also be combined with night vision goggles (NVG) for use at night. It was noted during test flights that the SkyVis suite demonstrated a mature system with a clear path to certification.
By enabling a pilot to stay heads-up by retaining access to critical flight information, the system reduces workload in demanding situations and ensures that focus remains outside the cockpit. This will help BPOL improve situational awareness and achieve higher mission completion rates with greater safety, in any flying environment.
With the successful completion of these test flights, we are expecting full certification of the system on the H215 in 2022.
About Universal Avionics
Universal Avionics, an Elbit Systems Company, is a leading manufacturer of innovative commercial avionics systems offered as retrofit and forward-fit solutions for the largest diversification of aircraft types in the industry. To learn more about Universal Avionics, visit www.uasc.com/company/about.
________________________________________
Universal Avionics Press Contact
Mathew Devitt
Marketing Manager
[email protected]
+1 520 295 2300 | 800 321 5253