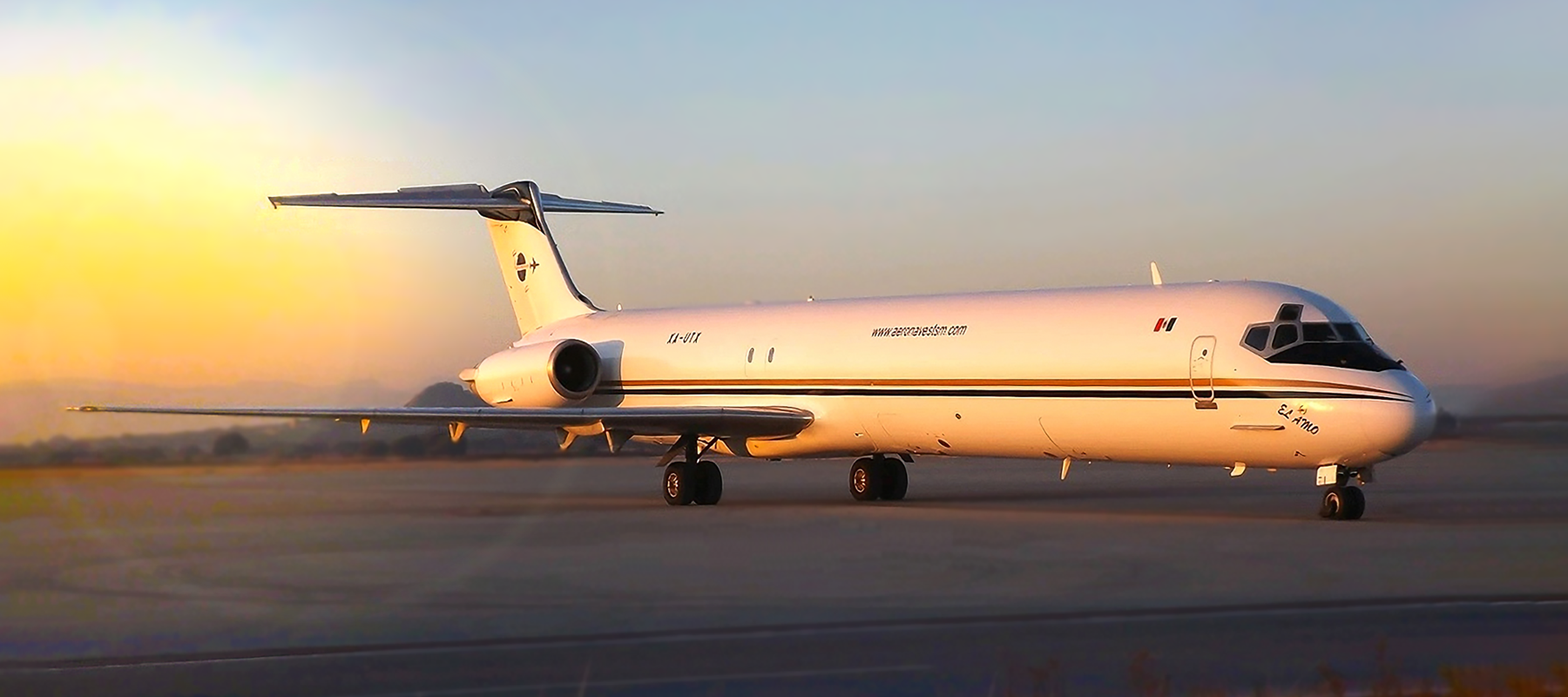 Oprima aquí para descargar la traducción en español
Complete cockpit upgrades to 15 McDonnell Douglas MD-80s and 11 DC-9s will modernize the aircraft, create operational savings, and meet ADS-B compliance with advanced connectivity.
Tucson, Arizona - June 28, 2022 – Universal Avionics (UA), an Elbit Systems company, has been selected by Aeronaves TSM to supply cockpit upgrades on 15 McDonnell Douglas MD-80s and 11 Douglas DC-9 aircraft. The addition of Universal SBAS-Flight Management Systems (FMS) improves the efficiency of cargo operations with Localizer Performance with Vertical guidance (LPV), among others, while bringing safety enhancements and compliance with the Automatic Dependence Surveillance-Broadcast (ADS-B) mandates.
Aeronaves is an airline that averages more than 10,000 charter flights every year and 30 flights per day, with the vision of being the primary operating company for cargo flights in Mexico and with service coverage throughout North America. Universal FMS upgrades support Aeronaves' mission to operate at the highest standards of quality, safety, punctuality and excellence.
Universal SBAS-FMS is the NextGen connectivity platform providing advanced navigation capabilities such as LPV and Required Navigation Performance down to 0.1nm, advanced interfaces for data communications such as Controller-Pilot Data Link Communications (CPDLC) and Departure Clearances (DCL), and improved safety and situational awareness. Along with operational improvements and savings for MD-80 and DC-9 aircraft, upgrades also meet new ADS-B mandates with traffic, weather, and flight information services. Over 1,100 commercial aircraft are in operation today with Universal FMS.
"Universal's unique retrofit solution brings next-generation technologies to legacy platforms and is a game changer for many customers," said Dror Yahav, CEO of Universal Avionics. "It's great to see the commitment Aeronaves has for flight efficiency and safety, and we are proud to support their mission and vision."
To learn more about next-generation upgrades for cargo and commercial operations visit our home page.
Universal Avionics, an Elbit Systems Company, is a leading manufacturer of innovative commercial avionics systems offered as retrofit and forward-fit solutions for the largest diversification of aircraft types in the industry. To learn more about Universal Avionics, visit about Universal Avionics.
________________________________________
Universal Avionics Press Contact